Which Swimming Pool Care Program is Right for You?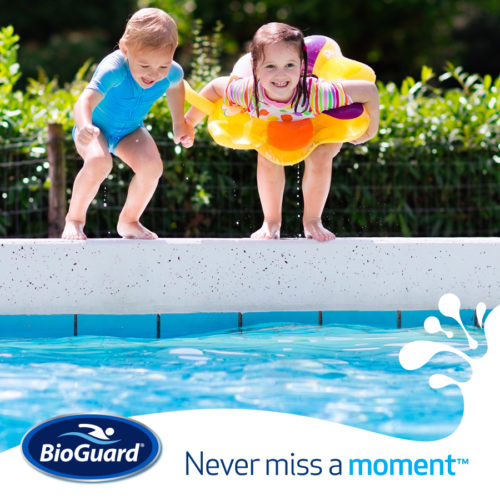 Which Swimming Pool Care Program is Right for You?
Pool care doesn't have to be complicated. Aqua Pros and BioGuard have taken the guess-work out of it with our Proven Chemical Systems. Which is best for you? Stop in your local Aqua Pros and talk to one of our H2Know Certified Experts.
Find a pool care program that's right for you.
Get helpful advice every day at our four locations in Madison Heights, Lynchburg, Bedford, and Salem. We invite you to stop in anytime during regular hours to learn the latest in Swimming pool care from our helpful experts.  We want your pool to be fun and easy to care for.
We're happy to share what we've learned from our years of experience and education to help make caring for your swimming pool easy and more affordable.
Pool Care Programs from BioGuard and Aqua Pros

BioGuard's 3 Step Chlorine Programs with Silk Guard Technology
Step 1: Enjoy softer water and save money as BioGuard's patented Silk Technology releases an amazing water conditioner into your pool water.  Silk Guard also prevents scale build-up in plumbing, filters, and pool surfaces and this keeps your pool operating at peak efficiency and saves you money!  Users say that their chlorinated pools feel unusually soft and have tremendous clarity, never before experienced.
Step 2: Oxidize Organic Contaminants.  Aqua Pros recommends BioGuard Smart Shock for regular weekly shock treatment.  Smart Shock is a patented, unique blended shock treatment that oxidizes organic contaminants without raising the chlorine level in your pool water as high as other harsher chlorine shocks, contains blue algae killing crystals, it buffers and clarifies water, and you can swim 15 minutes after a treatment!
Step 3: Prevent Algae Growth.  BioGuard Back Up 2 is so effective at inhibiting and killing algae in your swimming pool!  Back Up 2 stops algae where it starts, deep in the cracks and crevices of your pool, and is part of your Once a Week 3 Step Program!
NEW Algae Complete is a highly effective, fast acting swimming pool algae destroyer.  Algae Complete prevents and kills Green, Mustard, and Black Algae! It is a combination of two of BioGuard's BEST Algicides and can be used as your weekly algae preventative dose but also can kill algae in case of a breakout! 
Salt Water Swimming Pool Care
Salt water pool care is the real buzz in swimming pool care today and sanitizing a pool with salt  technology is so popular. 
MINERAL SPRINGS is the ultimate in salt water pool care, which takes salt water technology to the highest level. Mineral Springs takes all the benefits of salt and increases bather comfort, prevents algae growth, gives maximum water clarity, maintains stable water balance, and extends the life of your pool's equipment. Come into any Aqua Pros location for the latest word on salt water pool care.
AQUA PROS ALGAE FREE GUARANTEE  takes away your worries of algae. Exclusive to BioGuard Dealer's, the ALGAE FREE GUARANTEE is our promise that by using our proven systems (3 Step System or Mineral Springs) chances of algae are dramatically reduced and you'll have spectacular looking water all year long. But the best part is if you're loyal to the Promise and you still end up with algae, we'll give you everything you need to fix it for free!
CHLORINE FREE Swimming Pool Care
BioGuard Soft Swim… if you like Baquacil, you'll love Soft Swim!
SoftSwim gives a truly softer feel to your pool water.  Stop into any Aqua Pros and learn why  and, you'll save big time when you purchase your season's supply of Soft Swim at Aqua Pros!  Soft Swim for the best Chlorine FREE pool program available!
BioGuard Optimizer
No Swimming Pool Care Program is complete without BioGuard's Optimizer. Optimizer reduces chlorine consumption in swimming pools by as much as 50% as it fights algae growth. Optimizer also helps stabilize pH and gives greater water clarity.  There are so many benefits from Optimizer, BioGuard includes it in their Algae Free Guarantee for an algae free pool season.  NEVER MISS A MOMENT IN YOUR POOL, ALL SEASON!
Optimizer enhances ANY pool care program, in fact its blended into our Mineral Springs Program!
Topics
---
Recent Posts
---
Archive
---