$500 Price Match Guarantee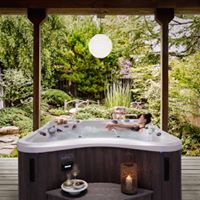 ​ "I will guarantee Aqua Pros will beat ANY competitor's price on a comparably equipped hot tub by 500 dollars!" – Owner, Bob Davis
     Aqua Pros believes if you want a hot tub, you deserve to own a Marquis Hot Tub.  
Aqua Pros became a Marquis Spas Dealer in 1989 and Bob quickly realized the unmatched quality of these American Made hot tubs and saw that we were having much fewer warranty claims and call backs on them compared to the other brands he also carried at the time. Gradually, he weaned out all of the other tub brands he carried at the time and has strictly been a Marquis Dealer ever since.
We feel so strongly that Marquis is the Ultimate Hot Tub Experience™ that we guarantee if a shopper brings in a proposal from a local competitor, we will match or BEAT their price on a comparable hot tub by $500 or more!
Before you buy, stop in your local Aqua Pros in Bedford, Lynchburg, Madison Heights or Roanoke-Salem and check out our incredible inventory and Factory-Direct savings. You can't lose! Our Marquis Spas are made in the USA (Independence, OR) since 1982 and are top rated in Spa Retailer Magazine and on Consumer Affairs website.
Consumer Report – https://www.consumeraffairs.com/homeowners/marquis-spas.html
Our knowledgeable staff is certified experts on Marquis Spas / Hot Tubs by the University of Marquis. We would love to help you find the Marquis hot tub that will truly provide you with your specific wants and needs. Whether you're looking for therapeutic purposes or just relaxation, Marquis and Aqua Pros has a tub that will fit you and your family's desires.
Learn more – https://www.marquisspas.com/
Topics
---
Recent Posts
---
Archive
---